We design and manufacture OEM flat flexible cables based on customer requirements. There are several options you have control over:
Color; there are several colors to choose from, not just white or black
Type of shielding; for example partial shielding or partial frequency range protection shielding
Shielding material; there are several materials and technologies to choose from from.
Cable branding, multi colour graphics, running serial numbers, …
Layout and routing of the cable
Bending sections and pre-formed bends
Substrate materials used and surface colour options
Connector footprints
Connectors and other component placement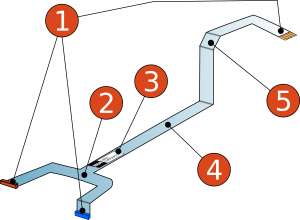 The design process starts with electrical and mechanical requirements specification from customer.
Our cable designs are IPC-2223 compliant.