As we demonstrate our Shielded Flat Flexible Cable (SFFC) to potential customers, we almost always hear the same questions. How can a cable this flat have have all the advantages and efficiency it is claimed to have? How do all the qualities fit in just 0.173 mm?
We decided to open up the structure in more details to give you a better understanding of our amazing product.
In a search for the optimal structure we have tried several paths. However, throughout the process the main requirements have been same:
High signal to noise ratio
High power carrying capacity
Flexibility
High EMI protection
The thickness of our SFFC was not always that important, but there is a definite relationship between flexibility and thickness. When you need flexibility, the cable needs to be thin.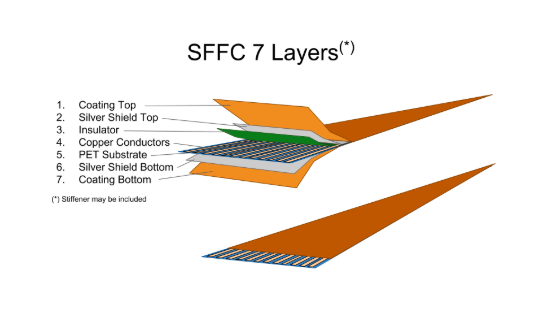 Other relevant reasons for the selection of the materials:
Manufacturing process needs to be controllable
Pricing of the materials needs to be stable
Materials need to have predictable life-time
SFFC and the materials need to be compatible with existing applications (and connectors)
Layer structure has to be lightweight
We wish to reduce the amount of plastics used
SFFC reference connector is Hirose FH12 -series. Stay also tuned for our own connector, which will be launched on early 2019.